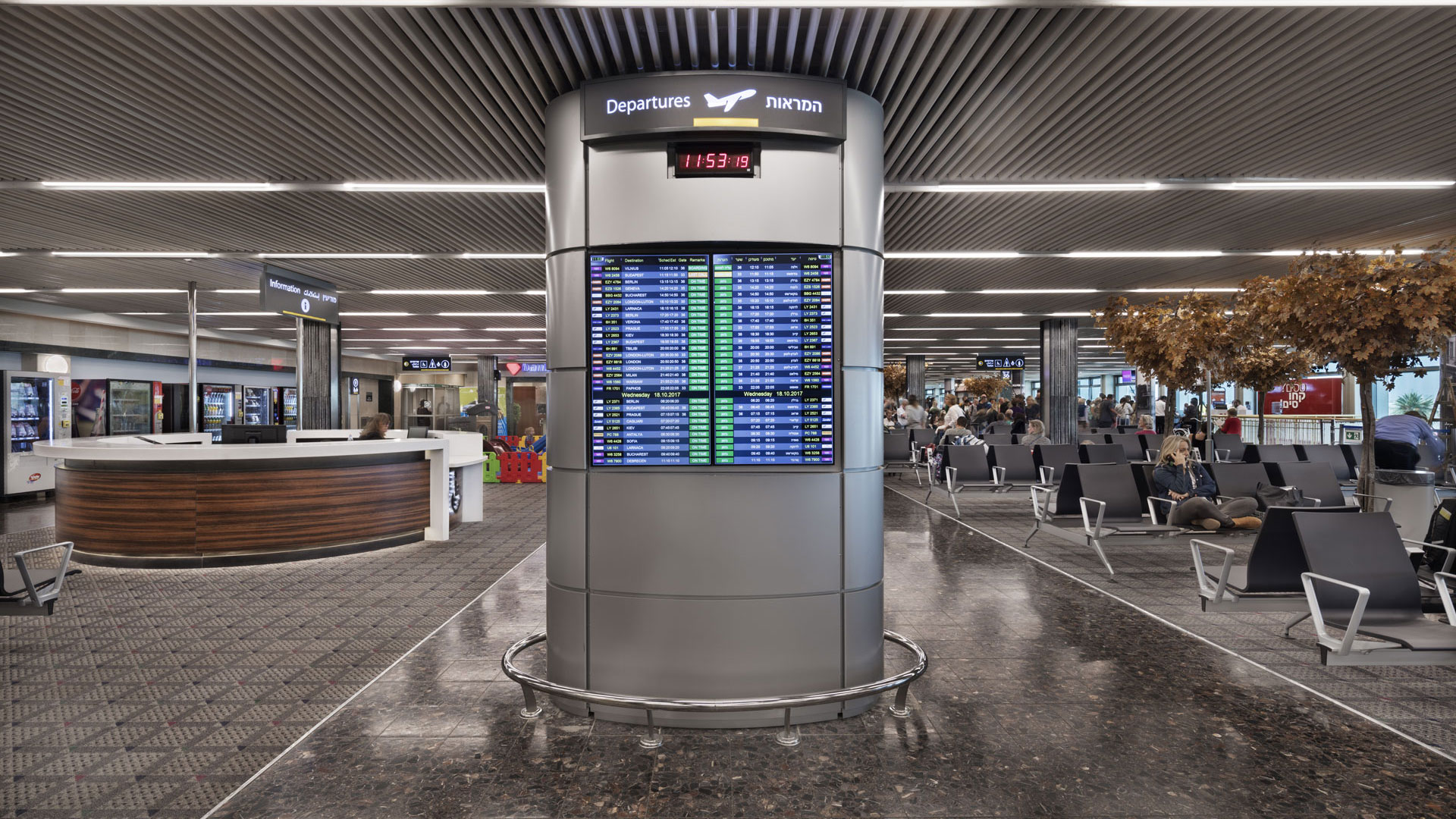 Following the inauguration of Terminal 3, as part of the Ben-Gurion Airport 2000 layout, Terminal 1 became somewhat obsolete. With its activities halted, it stood vacant for quite a long period of time. Some attempts and ideas for repurposing the terminal and reviving it were executed with limited success.
The Ministry of Transportation's Open Sky policy, formulated and advanced in recent years, as well as the introduction of Low Cost flights to Israel, significantly increased air traffic to and from Israel – with the number of passengers growing almost exponentially every year. These circumstances necessitated a thorough treatment of Terminal 1, transforming it into a full-functioning terminal able to accommodate the increasing volume of Low Cost flights, in mere 4 months.
The design and layout of both the terminal and passengers' hall are "passenger facing"; even though passengers spend only a short amount of time in the terminal the experience still needs to be smooth and pleasant.
The terminal's redesign program expresses a sense of nostalgia for the State's earlier days – boulevards of orange trees, the Susita cars, falafel, gazoz (flavored soda water), etc. while incorporating contemporary and durable materials, designed to withstand intensive use. At the same time, great efforts were invested in maintaining an open northern front, with zero obstructions, which offers passengers an overview of the runways and taxiing aircrafts.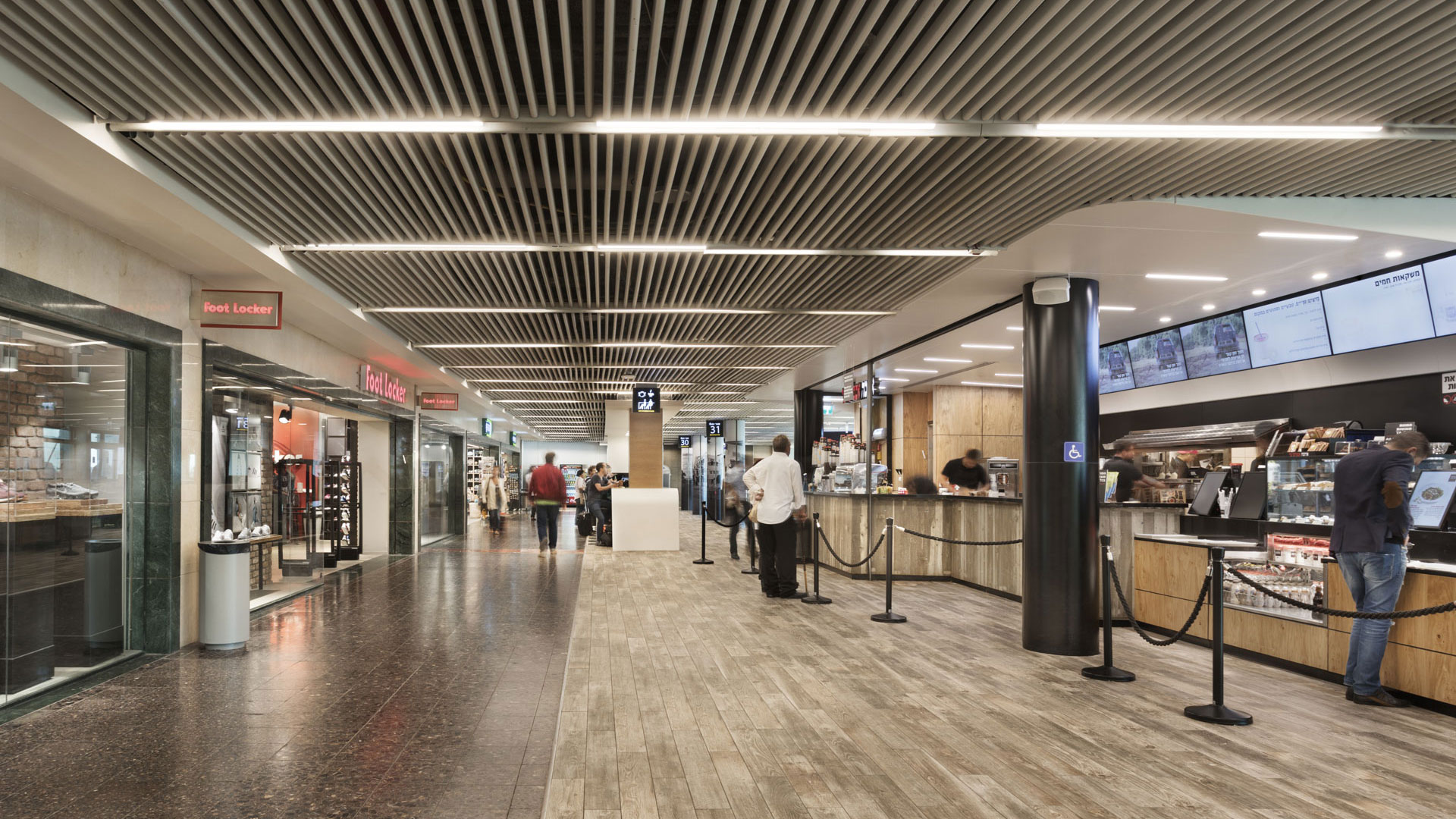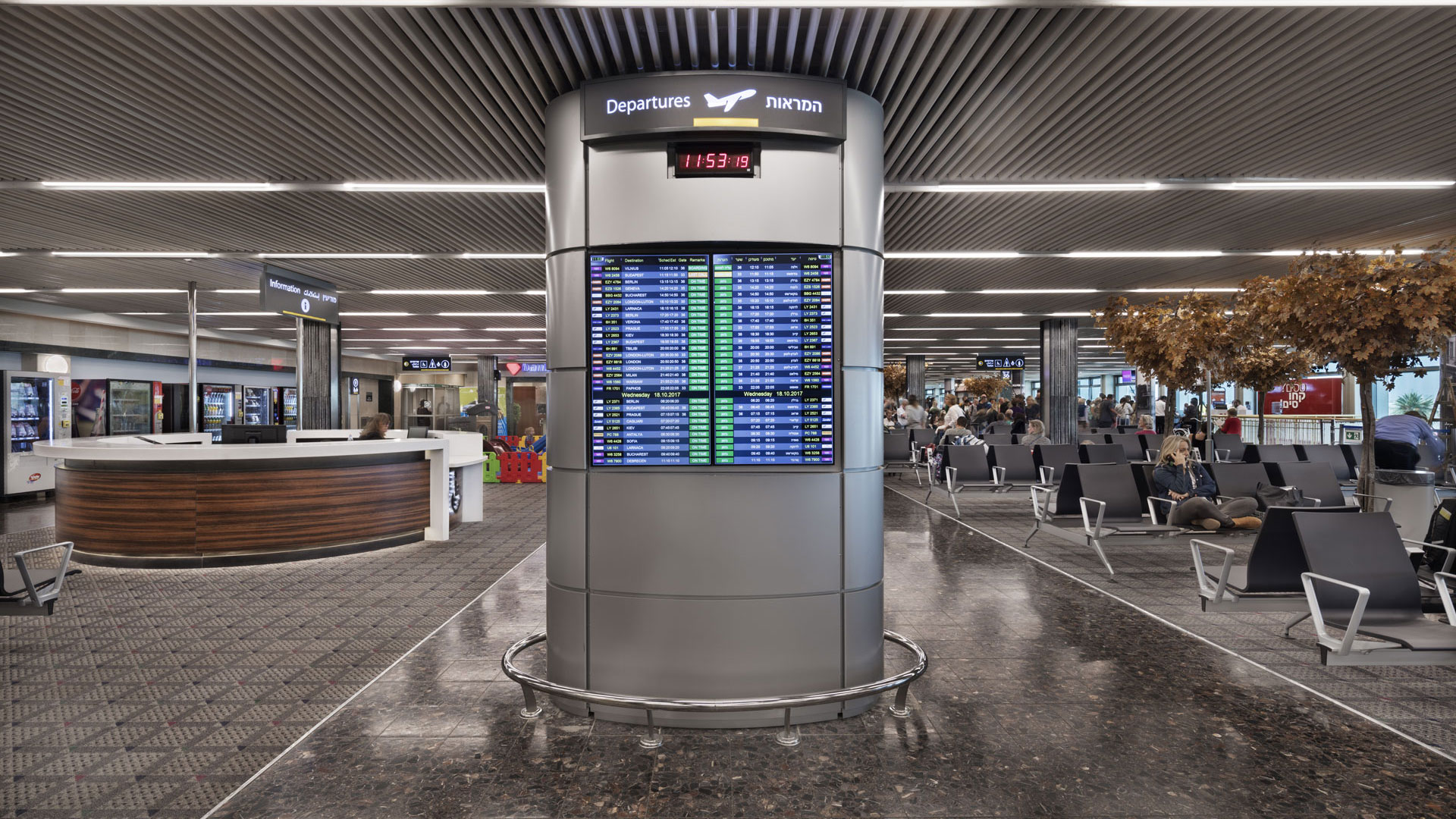 As part of the terminal's renewal plan, computerized check-in stands were designed and constructed, in addition to biometric stands, check-in and service counters. Fast and efficient cargo belt loaders and conveyors, various security systems, immigration counters, duty-free shops and restaurants, a VIP lounge and new gates were designed and installed as well.
Emphasis was placed on speed and efficiency of the entire process in order for the terminal to be able to process large volumes of traffic within a short amount of time. Furthermore, accessibility elements, a parent-child room, toilets and an indoor playground were designed.
The construction plan included the ceiling's dismantling and all of the electro-mechanical systems were treated and upgraded before its reinstallation. Moreover, many additional seating arrangements were added.
As is the case with every modern terminal, the issue of maintaining strict security guidelines vis-a-vis the passenger's comfort arose. To address this issue, we attempted to "conceal" the security apparatus as much as possible, aiming to strike the correct balance between the two.
Due to the limited time of the project's execution, we decided not to replace the existing flooring, in place since the 70's (terrazzo flooring with copper chips). This decision proved effective not only for practical reasons but also since it contributes to the instilled sense of nostalgia we wished to convey.